In April of 2009 I asked
Morgan
to marry me while we watched the sun set in Santa Monica, California.
In May of 2010 we got married at Walt Disney World in Lake Buena Vista, Florida.
In May of 2011 we planned to celebrate our one year anniversary in Tokyo, Japan. Then Japan was devastated by an earthquake and tsunami on March 11th.
We had already booked our plane tickets and hotel rooms. We were already scoping out the city for must do restaurants and shops. In the wake so such destruction our vacation was pushed into limbo.
I'm amazed at the number of people that kept asking if I was upset about my vacation being ruin. How could think about my vacation when half of Japan lay in ruin? With people living in little pod shelters inside of schools and gymnasiums?
And for the last several weeks we waited to figure out what we were going to do. I'm happy to report that our Japan trip is back on. Instead of going in May, we're going in late October.
And no, I'm not afraid to go in October. Honestly, I'm not afraid to go now, but Japan is having enough trouble getting it back together, it doesn't need some camera happy American tourists wandering around sucking up what energy, water and food that they have.
So, we'll wait a little longer to see Tokyo. It's not going anywhere.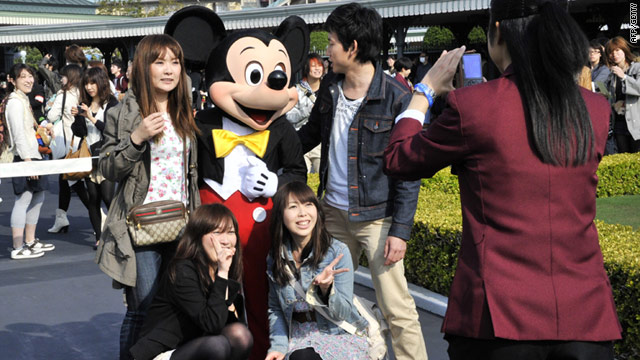 Tokyo's Disneyland reopened April 15th for the first time since
the earthquake and tsunami. Photo: AFP/Getty Images